"There is nothing like a dream to create the future."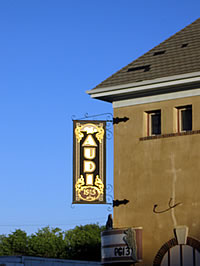 The Audi Theatre, Cando, ND
What Is The Cando Connection?


In the Summer of 2007, a group of former Candoites, Rusty Papachek, Jill Eggl, and Cindy Eggl, started brainstorming about ways to GiveBack to our former home town of Cando. Discussion centered around ways of giving back time, talent, and treasure to benefit area nonprofits, governmental and educational entities, i.e. parks, golf course, school, theater, library, etc. in and around the City of Cando, ultimately benefiting the area that has enriched each of our lives through the years. We knew that other former Candoites might also appreciate being given an opportunity to GiveBack to their home area, thereby lending support to charitable endeavors and providing a much needed boost to area residents, who are frequently asked to participate in worthy community causes.

Ironically, it was through the sport of golf that the three of us reconnected. We would see each other at the golf course, take time to talk, and then start reminiscing about old times and how we were so happy to be raised in such a great community like Cando. We also started talking about former Candoites who now live in Fargo and the surrounding area. We were thinking about how much fun it would be to have a Cando reunion in Fargo for all of us who have settled here. These conversations grew from having a reunion, to planning a scramble golf tournament, and finally turned to having the golf tournament be a charity event to benefit the Cando area. We were going to send the notice of the golf tournament to people that were raised in or used to live in Cando, but we made a decision to jump in (with all six feet), to open the tournament to people that have a soft spot for Cando through old family connections, hunters that used to hunt or are still hunting in the area, or anyone that has some connection to the community.

We selected the name "Cando Connection" for our GiveBack initiative, so that any person having a connection to Cando would feel welcome to participate in any manner. 100% of the proceeds of all golf tournaments and all charitable gifts will ultimately benefit the Cando area!

Since Fargo is centrally located, we were hoping that people from (why not dream big) all over North Dakota, Minnesota, or wherever you might currently reside, would participate. It continues to be our dream that we fill all available spots for each golf tournament, and that we will need to plan for expanded events in future years. We have been gratified by the wonderful turnout for each of our events, hosted in both Fargo and Cando, to date, and hope that this annual event will continue to allow us to GiveBack to the Cando area.

If you are not a golfer, or cannot participate in our annual golf event, consider participating through the GiveBack of your time, talent, or treasure in a meaningful way. Think about donating to our fund during Giving Hearts Day, held around Valentine's Day each year, or becoming 1 of 500 to participate in GivingBack to our hometown area. Look for the dedicated webpages - Giving Hearts Day and Will You Be 1 of 500 - on our website. There is a link to participate in making an online donation for the Giving Hearts Day event, held annually, and there is a form for you to print, complete, and return at the bottom of the 1 of 500 webpage for becoming a member of the 1 of 500 participants. This is your invitation to get involved in whatever way you would like to GiveBack to the Cando area!
2023 Copyright. Impact-Cando Connection Fund